I promised the beet rösti recipe when I got around to making it. Well, I got around to making it. (:
What is rösti, you wonder? It's a Swiss version of what we'd consider hash browns, more or less. My chef-instructor taught us to make it in culinary school. Thank you, Chef Kurt! 'Cause you really have to be shown the technique in order to do it right, or at least get some really really good step-by-step instructions.
Aside from potatoes, you can make rösti with pretty much any root vegetable, and that includes beets. To be honest, it's one of the few ways that I like beets. To be really honest, I didn't even eat beets until they started showing up in my CSA box, and I had to figure out something to do with them. Usually they're just too heavy and cloying for me, but spending the time to caramelize them makes some of the earthy, overpowering sweetness turn toasty and crunchy and much, much more tasty.
Speaking of beets — when you purchase or receive your beets, they may come with their greens on. That's fine. Beet greens taste much like a sturdy spinach when cooked, and you can use them for pretty much any cooked spinach or Swiss chard recipe you'd like. (I like 'em sauteed with pine nuts and raisins and a little parmesan.) But if you are not going to use your beets the day you buy them, chop the greens off and store them separately from the beets, otherwise the greens will suck the nutrients and flavor out of your beets while they are sitting in your fridge.
I'm going to try to give really thorough instructions for the rösti, because this is one of those recipes where messing up will mess it up, and it'll turn into a soggy gloopy mess. Ever had underdone hashbrowns? Yick. Now think about that with beets. Double-yick. So without further ado — the overly detailed instructions!
Beet Rösti
Serves 2-3
3-4 medium-sized beets, tops and tails removed
2-3 cloves garlic
half a small onion
3-4 sprigs of fresh rosemary
1/4 c. flour
3 Tbsp. butter, divided
salt and pepper to taste
Mince the garlic. You're looking for about a tablespoon's worth. Set aside in a medium-large bowl.
Mince the onion, too. These pieces can be a little bigger than the garlic, but you don't want them super-huge. I used about half of a Borretana onion from our yard. You're looking for about a quarter-cup. Add it to the garlic.
Mince the rosemary. A couple teaspoons to a tablespoon's worth should be enough. Don't add too much rosemary — it's a powerful taste and too much of it will make your dish taste soapy. Err on the side of caution if you're not sure how much to use. Add this to the onions and garlic.
Finally, shred the beets. You do not need to peel them, just make sure they're well-cleaned and the beet greens and tails of the beets are removed. I strongly recommend shredding the beets in a food processor. Beets are wonderfully juicy vegetables and they will get bright red juice all over your counter, your floor, your hands, your clothes … yeah. So to save on cleanup, use the shredder disc of your food processor.
Add the beets to the onions, garlic, and rosemary. Sprinkle with salt and pepper and toss to combine. Then sprinkle on 2 Tbsp. of the flour, and toss again. Most of the flour will be absorbed by the beet juices. Sprinkle on the rest of the flour, and toss a third time. I do it in stages because otherwise you can end up with flour lumps in your rösti.
Melt 2 Tbsp. of butter in a nonstick pan or a cast-iron skillet. I love my cast-iron skillet. Let it cook just a bit so that it starts to turn light brown. Turn the heat to medium.
Spread the rösti mixture in the pan, pat it down into a circle with a spatula, and then — and this is the most important thing — LEAVE IT ALONE. Do not touch it, do not mess with it, DO NOT peek under it to see how it's cooking. You need to let it cook for about eight minutes, undisturbed, or you will end up with soggy uncaramelized beety goop. If you absolutely must mess with it, you can mash it down further with your spatula, but DO NOT dig under it until it is caramelized on the bottom. (I recommend a nice flexible silicone spatula for this job, by the way. The beets won't stick to it as much when you've got to move them around.)
Once the beets have cooked for about 8 minutes, you'll want to take your spatula, dig under them, chop them up, and mix up the caramelized bits with the uncooked bits. This gets you crispy bits all throughout your rösti, and this is what makes a big difference from normal hash browns if you do this with potatoes. (If you do try this with potatoes, render down a little chopped up bacon instead of the butter … mmm.)
Pat it down into a circle again, and let it cook about four or five minutes (and leave it alone!), until you've got a nice caramelized crust on the bottom again. Poke under it with your spatula and loosen the entire cake as one piece, because now you're going to flip it over.
I'll be honest. I know how to flip things without a spatula and a plate, but cast-iron skillets are HEAVY. I don't do the wrist-flip thing with the big skillet. If you've got a nice light nonstick pan that you're doing this in, or you're sufficiently beefy to wrist-flip a large cast-iron skillet, go ahead and do the wrist-flip, and I'll be jealous of you. (; But for the rest of us, this is how you do it.
Loosen the entire cake, and shake it down towards the edge of the pan, and slide it out onto a plate. Alternatively, you can slide it to the edge of the pan and then flip it out onto the plate. That's what I did.
See the nice caramelization? Those are the tasty crunchy toasty bits. MMMM. Don't worry if you don't get it out of the pan perfectly. You can mash it back down when you get it back in the pan.
Melt the last Tbsp. of butter in the skillet. If you slid the rösti out of the pan, you'll need to flip it into the skillet. If you flipped it out of the pan, just slide it into the skillet like so: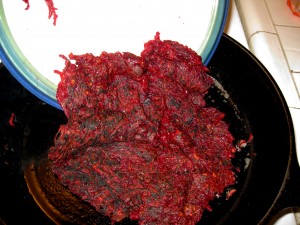 Either way, you want the previously-caramelized side up, and the non-caramelized side down. Reshape it if you need to. Cook it for about three to four minutes (and leave it alone!), until the other side is caramelized as well.
Scoop it out of the pan, slice it into wedges, and enjoy! I use this as the starch part of a meal when I make it, 'cause beets are pretty heavy on the sugar front. We had this tonight with leftover BBQ ribs and sauteed pattypan squash. So good!